This post was originally published May 8, 2012, during my time in Tanzania with Compassion International. Currently Compassion is in the Dominican Republic with a group of bloggers, sharing the story of how Compassion is releasing children from poverty in Jesus' name. Please follow their journey in the #compassionbloggers hashtag and through the Compassion site then join us tonight at 8 p.m. ET on Twitter as we tweet live with the blogging team.
Please also join me in remembering the time that I spent learning about the work Compassion is doing in Tanzania. On this day of the trip, my life was changed forever when I met one of my sponsored children…
"Only take care, and keep your soul diligently, lest you forget the things that your eyes have seen, and lest they depart from your heart all the days of your life. Make them known to your children and your children's children…"
– Deuteronomy 4:9
Three years ago I was driving to pick my son up from preschool and listening to my favorite Christian radio station when I heard that the station was hosting a day of Compassion.  All day long the show hosts were sharing testimony from sponsors and telling listeners how they could get involved and make a difference in the life of a child.  It wasn't my first time learning about Compassion International, but something in those few minutes it took to drive from my home to the school spoke to me in a new way.  The voice coming from my radio promised that it would just take three minutes to complete the registration process, and as I pulled into a parking spot at the school and looked at the clock, I realized that is exactly how long I had until my son's class was over.  I grabbed my cell phone, dialed the number, and three minutes later was sponsoring Meke, a 13 year old boy from Ethiopia who just happened to have been born ten years to the day before my son…who I am happy to report was picked up on time that day.
Over the last three years we have sponsored Meke with our monthly sponsorship fees, the occasional letter, and additional funds at his birthday and Christmas.  We keep his picture on our refrigerator, we have Ethiopia circled on the map on our wall, and occasionally we chat about him, his country, and what it means to sponsor a child with Compassion International.
But honestly, until today I did not really understand the impact a sponsor has on the life of a child.
When I found out I was going to be traveling to Tanzania with Compassion International, I happily agreed to sponsor another child knowing that I would likely meet that child during this trip.  Our sponsored child, Meke, is turning 16 tomorrow, and I know that he will not be participating in the Compassion program for many more years.  This seemed like the perfect opportunity to begin to change the life story of another child, and today I got to know more about that child's life…
Mektrida- who happens to also go by Meke – is a four year old girl living near the city of Mwanza, Tanzania.  She has been in the Compassion International program for ten months, but was still waiting for a sponsor family when I asked to sponsor a child in one of the areas we are visiting this week.  Today I had the opportunity to not only meet Meke and give her gifts from my family, but also spend part of the day with her family in her home.
The Mektrida that I met in the Compassion International Child Development Center was quiet and shy.  She looked up at me only in brief glances, and took my hand to lead me to her home only after being prompted by the Child Development Center's social worker.  I didn't know what to expect as we made the 30 minute walk from the center to her home, and clearly neither did Meke, her grip on my hand tentative, her eyes unsure.  We walked through piles of trash mixed with mud, past sleeping dogs and one very ominous looking stork who was larger than Meke, crossed a busy road, jumped over open areas of water waste, and eventually made it to the community of buildings where Mektrida and her family live.
Mektrida's parents rent a room in a small, four room concrete block building.  Inside the approximately 100 square foot room there is a double mattress, a row of containers for water and other supplies, and a few personal items.  Mektrida lives here along with her mother, her father, her eight year old sister, her 12 year old sister and her 14 year old brother.  She also has a 17 year old brother, but he has moved to the city to try to find work.  Mektrida's father has crippled feet and is unable to labor to provide for his family, so instead he repairs shoes as often as he can to earn money.  Her mother also suffers from a handicap that makes walking difficult, so while her neighbors often help her carry water, she still walks Meke the half hour to the Compassion Child Development Center to receive services.  To earn money, Meke's mother buys ground nuts, sorts them to remove the rotten or not developed ones, then roasts the remaining nuts over a charcoal fire outside her doorway.  She then places the roasted ground nuts in bags and seals them with heat, heading out in the evening to sell them in town.
Because of their dire financial situation, Meke's parents would not be able to afford to send Meke to school without the help of my sponsorship through Compassion International.  The cost of the required uniform and fees are too great, and three times a month the schools check the records. If the family has not paid, they send the children home until the money can be saved to cover the costs.  Through Compassion International, that fear has been relieved, and Meke can continue her schooling uninterrupted.
Today Mektrida's 14 and 12 year old siblings were away at school, but her 8 year old sister was home.  She met us excitedly, walking us into her home along with her mother.  Once inside, Mektrida's mother shared her stories, explained her daily life and the struggles they face, and talked about the day her daughter was registered with Compassion. She says that she could have never hoped for such a day as the day a worker from Compassion International came to her door. To her, it was like a dream, a miracle of sorts.  They offered to provide Meke with appropriate clothing, health care, an education.  She could not believe that this was happening for one of her children, and because Mektrida was the child who was in the home in that moment, she was the one registered.
At times during our visit today, I felt overwhelmed with sadness.  Seeing a family living under the conditions that Mektrida simply knows as her life left me feeling hopeless and helpless in certain moments, but Meke's mother did not convey either emotion.  Instead, she thanked us over and over again for not only sponsoring Meke, but also for visiting her home.  She also allowed me to sit and pray with her and her children, asking God to help her family afford a home of their own.  She shared that even on days when they have nothing to eat and are suffering terribly, she believes that she would suffer less if she lived in a home that was theirs, and from which they could not be evicted.  We prayed for the health of the family, for their ability to continue to find daily bread, and for the children to grow strong and find success.  With the help of a translator I was able to tell Mektrida and her mom that they are beautiful, they are strong, they are precious, and they are loved. Even in the face of such desperate conditions, I left feeling hopeful for the entire family and intensely aware of how great a contribution my $38 a month will really make to Meke and her entire family.
Despite the moments of sadness today, the majority of my time with Mektrida was filled with joy and laughter.  Once I presented her with a doll I brought as a gift from my family, the shy little girl melted away and her eyes sparkled, her voice filled with laughter.  I taught her the hold-your-arm-out-and-take-a-picture-of-yourself move, which was followed by dozens of requests for more pictures once she saw her face reflected back to her on my digital camera's screen.
When we went outside to play and found only dirt, I grabbed a rock and made hopscotch squares, Meke's feet already bouncing through the numbers before I could finish. When I missed the ten square, she created the box with a rock of her own, and gestured for me to fill it in with the number.
Meke and her sister quickly became mother and favorite auntie to her doll baby, which she named Angel, and soon Meke was carrying Angel around much like the other women in her community, wrapped with a colorful scarf, tied tight to her body.
At one point the dirt outside Meke's home was transformed into a top hair salon, and for the low price of a hug, I was able to have my hair worked on by the most amazing team of small children hair stylists anywhere in Tanzania.  There was much confusion when my hair refused to put into plaits, and our translators laughed as they told me that there was an intense discussion among the girls about whether or not I had extensions.  Unable to find where they were attached, the girls finally believed that this strange hair grew all on its own from my head.
The crowd grew once the bubbles came out, and I had to quickly get another bottle for my fellow blogger The Nester so that we could divide and conquer the large group of kids shouting anxiously for more bubbles to appear or a chance to blow some bubbles of their own.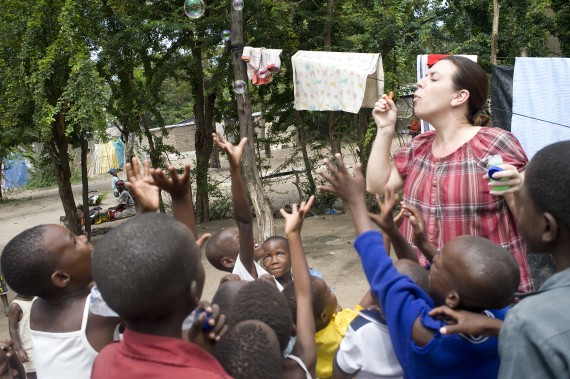 We were also able to help Mektrida's mother with some of the tasks of her day, walking to fill her buckets with water, and carrying them back on our heads the way we were taught.  They asked me to only fill the bucket half way, sure that that would be difficult enough…and it was.  Our attempts to balance the water and walk were met with laughter, but I knew that the work was appreciated. We also helped sort the ground nuts so that Meke's mom could roast and bag them to sell this evening.
Following our home visit, we walked with Mektrida back to the Compassion International Child Development Center, one slick and soapy container of bubbles still gripped tightly inside her little hand, the prize from her morning.  Back at home, her mother continued to prepare the ground nuts while Meke's sister likely played with Angel the doll baby and colored in their new coloring book.
It was incredibly difficult to leave Mektrida and her family, but I am excited to continue to correspond with them through pictures and letters.  Having had the incredible privilege to spend the day with them today, I now have a much deeper understanding of the impact of our sponsorship, just $38 a month – money not even missed – as well as the importance of regular communication with the sponsored child.  My time today with Mektrida has inspired me to work harder to communicate more often with Meke in Ethiopia, and to encourage others to sponsor a child through Compassion International.
Please sponsor a child through Compassion International today, another child like Mektrida living a life that to most of us is unimaginable, and yet is waiting to be filled with the hope that comes from sponsorship.